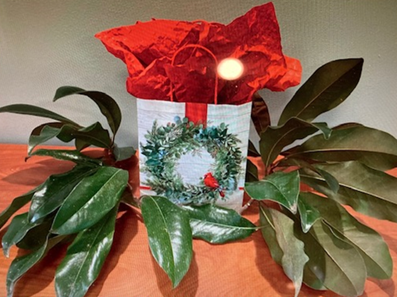 From Friends to Family: Spreading Holiday Cheer!
In 2021, when fall was turning to winter and the holiday season, the Woodlands residents remembered the year before when they were all isolated in their apartments. But this year, they
were eager to talk about their plans for the holidays. It soon became evident that there were those who weren't going out of town or having family or friends visiting. So, they planned a wonderful
gathering to be together, not an ordinary gathering but one that would include refreshments and time to exchange greetings, stories, and blessings. They said they felt so close, just like family, that they began to say, "Our Salemtowne family."
Coming forward to 2022, conversations once again turned to holidays. It was the middle of summer but their memories of being together on Christmas Eve in 2021 remained fresh in their minds. But this time a new question arose. "If we are family, what about those in Assisted Living and the Babcock Health Center? They're part of our Salemtowne family and should be included, but how, since they can't join us in the Saal?" It did not take much discussion before everyone knew the answer—we need to take Christmas to them. Hence the ideas began to form: let's sing carols in the halls, have a visit from Santa, and give each resident a gift. This was the inspiration for the Christmas Gift Bag.
When the time came to take action, the group turned to Martha Morgan to lead the endeavor as the idea had originated with Martha and her husband, Kent. Committees from the first gathering were called together and new committees were formed. The number of gift bags needed was 144. Each Christmas Gift Bag included a Christmas card; a packet of writing pads, with a pencil and pen; an activity booklet; snacks; and toiletries the residents may not have available. All items were neatly packaged in a bright Christmas bag topped off with colorful tissue paper. Many happy participants completed the final assembly in November. On Christmas Eve day, the gift bags were delivered with carols, Santa, and a visit with the residents. It was a time to enjoy the fellowship of each other and the joy of the season. The true meaning of Christmas spread all across Salemtowne that evening.
Article by resident Roberta Pettit.