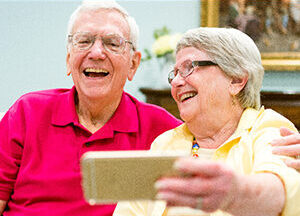 Salemtowne Learning Lab Launches
Salemtowne is pleased to announce a new initiative to support older adults in their quest to continuously seek knowledge, obtain new skills, and broaden their perspectives. The Salemtowne Learning Lab is a series of opportunities designed to creatively foster a passion for lifelong learning. Topics of interest are presented in classes, workshops, seminars, and events and are open to those who have joined our future resident program, The Towne Club. Our broader community is invited to join us for select courses of study.  Listed below are two upcoming webinars:
Smart Devices for Seniors
Get the most out of today's smart devices.
Monday, April 26, 2021  |   3:00 – 4:00 pm
We'll take a look at the current landscape of smart devices. Whether at home or on the go, smart devices can help you with practical tasks as well as add fun and flair to your life.
Social Media for Seniors
Social media can keep you connected to friends and family.
Monday, May 3, 2021  |  3:00 – 4:00 pm
Facebook, Instagram, TikTok, Zoom. What are the best platforms for seniors to connect with others safely? Find out and learn about some new services that are available just for active adults and seniors.
Click here to register for either of these webinars.