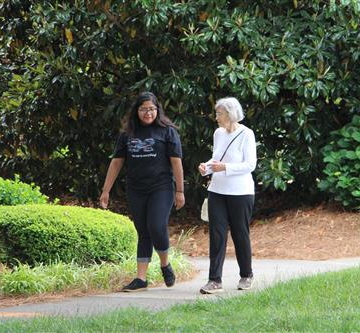 Salemtowne Residents Connect with Local High School Students
Before school on Tuesday morning, North Forsyth sophomore Isabel Diego headed over to Salemtowne retirement community to take a walk with residents.
From there, she was off to school. After a full day at school, she went back over to Salemtowne before going home so that she could help residents with any questions they might have about their cell phones or other technology.
Diego, who participates in the Academy of Health Sciences, wants to be a nurse one day. As she sees it, becoming a nurse is all about connecting with and helping people and, although the visits to Salemtowne Retirement Community aren't directly related to nursing, they are definitely about helping people.
"I do enjoy it," she said.
Sophomore Guillermo Lazo, who envisions becoming an emergency-room doctor one day, made the morning and afternoon visits to Salemtowne for similar reasons.
"Helping people brings me joy," Lazo said. "This is a starting point."
Earlier, North Forsyth began offering courses in health sciences in partnership with the NAF, a nonprofit organization that works to help high schools provide skilled workers in several fields. This year, it became a magnet school with a focus on health sciences.
"We are in our first full year and our students are growing tremendously, connecting with the community, and having wonderful hands-on learning opportunities," said Teryn Hynning, the school's Magnet/NAF Coordinator.
Diego and Lazo are among a number of students in the Academy of Health Sciences program who have gone over to Salemtowne – which is about 2 miles from North – several times to participate in a morning  "Walking Club" and afternoon "Tech Club."
"I think it's been a good opportunity for both the kids and the residents," Hynning said. "It's been great for kids to do something outside of school."
"Both of these events have been a fabulous opportunity for students to volunteer, connect with their community, practice communication skills, and develop a sense of pride in the activities as they've developed relationships with the residents. As a teacher and coordinator of our NAF program, I can't put into words how proud I am to see these students learning and growing because of this wonderful opportunity and partnership that we are developing."
Tuesday was the first time that freshman Amy Garcia, who envisions becoming a nurse or physician's assistant one day, had joined the group going to Salemtowne.
"I like to help people," she said. "I like to find ways to help people. It doesn't have to be an easy way."
For Garcia, the hard part was getting there so early. On school days, she said, she usually gets up just in time to get dressed and rush to school. So it was a challenge to get up early enough to come to Salemtowne first, she said.
She was glad she had, though.
As they waited for everyone to gather, Garcia and Diego talked about some of the other experiences that participating in the academy has brought, such as meeting Dr. Julie Freishlag, the CEO of Wake Forest Baptist Medical Center.
"They try to connect us with professionals so, in the future, we can have a job and they will already know us," Diego said.
Principal Melita Wise came to participate for the first time in the Walking Club.
"The kids are excited about it so I wanted to be a part of it, too," Wise said.
One Salemtowne walker is a serious walker indeed. Clem Peterson walks 30 minutes a day every day, and she and her husband once walked all the way across England. It took 10 days.
They were married for 53 years before he died. She misses his enthusiasm.
"He would wake up and say, "Let's go to the moon today. Can you be ready in 5 minutes?' I would say, "Give me 10.'"
Another Salemtowne walker was Bob Wilkinson, a retired dentist who graduated in 1949 from Mineral Springs when it was a high school.
Also there were Ranid Miller, who teaches health sciences at North and Laura Gorycki, Salemtowne's Wellness Coordinator.
When the walk began, Diego and Peterson ended up walking together for much of the 30-minute walk.
"She made great company," Diego said afterward.
Peterson appreciated talking with Diego as well.
"She has a great future ahead of her," Peterson said.
Wilkinson and Wise ended up spending much of the walk together. When the group returned to the Vogler Building after a walk around the Salemtowne campus, they brought up the rear. Some of those benches along the way were quite alluring, they said.
A school bus pulled up. Everyone hopped on and the people from North were off for a day at school.
About 4 p.m. students – some who had been there in the morning and some new ones – gathered in the Vogler Building for the Tech Club.
Robbie Grier, the Salemtowne volunteer who usually leads the Tech Club, was unable to be there. Amy Pagano, a retired Guilford County principal who now serves as the Director of Life Enrichment, was there.
Wilkinson, who had spruced up after his morning walk, was there, too. This time, his partner was sophomore Brianna Martinez. Out came the cell phones, and they went to work.
Diego and another student worked with another resident, and Lazo worked with a group that included Pagano.
Pagano has appreciated the connections students and Salemtowne residents have made. Once a resident comes to the Tech Club, they tend to come back.
"Everyone is getting an education with this experience," she said.
By Kim Underwood
Winston-Salem/Forsyth County Schools