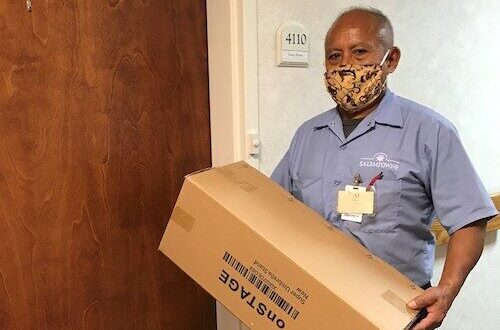 Salemtowne Team Members Shine
As we marked the one-year anniversary of the beginning of the COVID-19 pandemic during March, there is good reason to acknowledge that the past year, in many ways, has been one of the most challenging in the history of Salemtowne. Here at Salemtowne, we experienced hard-to-accept visitation restrictions put in place by North Carolina Governor Roy Cooper, challenges to traditional dining and recreational activities because of the pandemic, and, unfortunately, a few cases of COVID-19 on our campus despite our best efforts to contain the spread of the virus.
While the past year has been challenging, Salemtowne's team members went the extra mile to serve our residents to the very best of their abilities during this difficult time. Many team members worked longer hours than usual. Some worked weekends away from their own families.
In every case, Salemtowne's team members shined. They remain fully committed to keeping residents as safe as possible. Salemtowne owes tremendous gratitude to all its team members who worked tirelessly during the past year—and continue to do so—to assist our residents. The Salemtowne community owes a special thank you to our health care and assisted living team members—Salemtowne's version of our front line—who worked very hard to care for and keep residents safe.
During the pandemic, Salemtowne's dining team members created a market, established a drive-thru food pickup system, and made seemingly endless deliveries of food to residents' homes. Similarly, Salemtowne's transportation staff took on a new role and took turns delivering mail and packages to residents when our main gates had to be closed to maintain safety—many team members made deliveries of food, mail, packages, and other needed products to residents far past regular work hours—all with a smile on their faces.
Most of you know that Salemtowne's motto for many years has been, "Where every life shines." This was never truer than during the past year, when not only residents shined but the devoted Salemtowne team members who care for residents shined brighter than ever before. Thank you, Salemtowne team members!