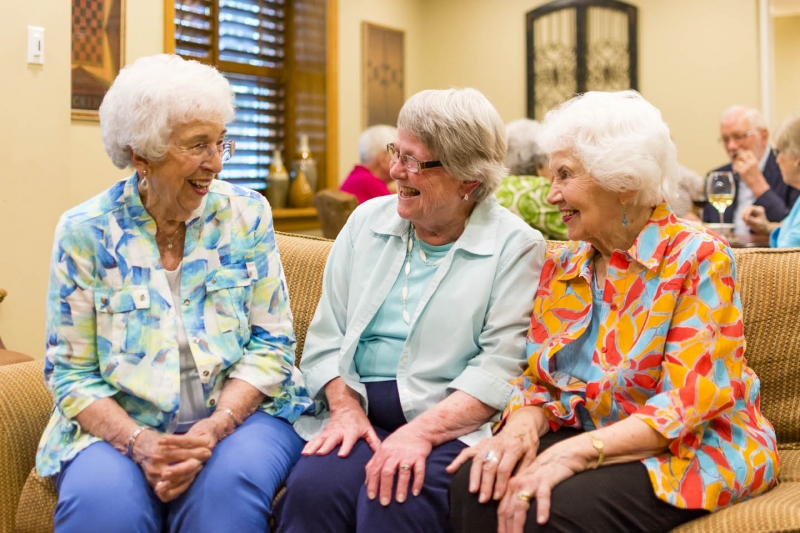 Successful Aging Tip of the Month: Stay Connected
People are happier when surrounded by others. It helps us thrive. This is part of our very DNA, at the core of our basic human needs and most authentic selves.
Research clearly shows that isolation and limited social connections are associated with higher rates of heart disease, some cancers, and even dementia and depression. Like being sedentary, lack of social connection carries higher risks than even smoking.
Being with others strengthens our immune system, making us much more resistant and resilient.  We can all easily observe that, for the most part, we are happier with others.  Yes, our fellow humans can sometimes make us want to tear our hair out.  We can annoy each other, hurt each other, be less than noble to each other, but there remains a magnetic attraction that is deeper than personal preference.  When faced with a choice between being alone or being with others, most of us, most of the time choose people.  This is, again, at the core of our human needs, of our authentic self.
Community life at Salemtowne affords you many opportunities to connect with others.  You may simply seek a dining companion to enjoy a meal, a worthy opponent for a game of chess, or a new golf partner.  Residents share a wide range of interests that when shared with others provide an enriching experience for both parties.  You can connect with others as often as you desire and spend time alone as much as you need to "recharge your batteries".
After much research, it has been proven that lifestyle choices do impact successful aging, and Salemtowne is committed to helping you continue to grow and flourish. That's why we created onPointe — wellness for life, which is powered by Masterpiece Living, a scientifically proven program to help older adults live longer, healthier, happier lives.  As a Masterpiece Living community, Salemtowne focuses on the four key areas to create lifestyle enhancement: social, physical, intellectual and spiritual.  Plan a visit to our thriving campus to meet our residents and learn more about how Salemtowne can enrich your life.