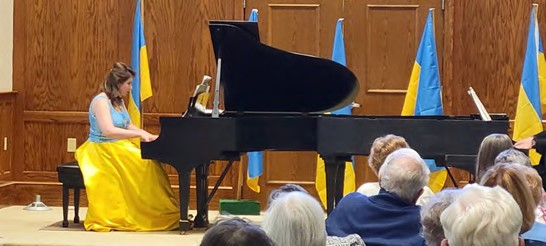 Ukraine Benefit Concert at Salemtowne
On Friday, April 29, 2022, Salemtowne residents, led by Madeline Allen, organized a benefit
concert in support of the Ukraine Medical Outreach program. Paul and Sophia Chandley are return
performers at Salemtowne. This concert held special meaning for them, because Sophia's Ukrainian
family and many of her friends live in Kiev. Sophia has been unsuccessful in encouraging them to
evacuate, but says holding benefit concerts is currently her best way to help the Ukrainian cause.
Paul Chandley served as the master of ceremonies. Paul and Sophia, on their two traveling
grand pianos, played a variety of traditional compositions and many original pieces, including an
opera, composed by Sophia.
Other performers included Jason McKinney, an American baritone, Angela Rumball and Alina
Cherkasova, Ukraine-America sopranos. The songs of Ukraine were both uplifting and melancholy and
perhaps define the spirit of the Ukrainian people. Salemtowne responded by opening their hearts and wallets. Residents and community
members contributed $13,135 to support the work of the Ukraine Medical Outreach. Well done!