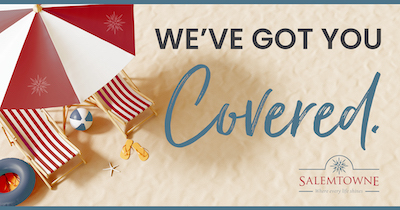 We've Got You Covered
Some people go to the beach for the sun, others to relax on the sand. Likewise, older adults move to a Life Plan Community for a variety of reasons. Whether it is for the lifestyle options, amenities, or the security offered, Salemtowne's got you covered.
Join us for an upcoming webinar to discover what Salemtowne offers older adults who are looking for options in retirement. Learn about:
The variety of living options we offer including apartments, cottages, and villas
The lifestyle options for wellness and personal enrichment
The vast services and amenities available to residents

Register today to learn how Salemtowne's got you covered.