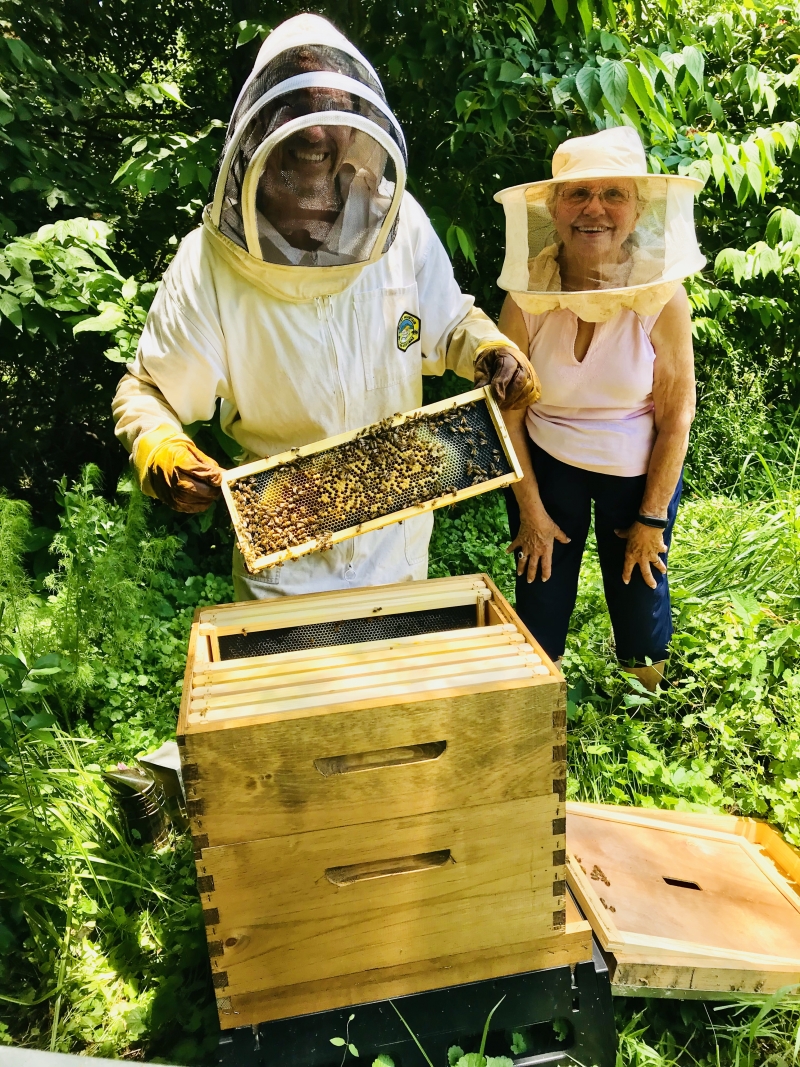 Working Bees Find a Home at Salemtowne
Cissie Anderson grew up on a farm in Georgia, where it was her mother's job to tend the 20 or so hives of honey bees that provided the sweetener for everything from sweet tea to Georgia peach pie. Those days are long gone; now Cissie and her husband, John, have retired and live at Salemtowne Retirement Community in Winston-Salem. But when Cissie saw an article in the paper about a program called "Bee Our Future," it brought back all her memories of her mother tending the bees, and the sweet, golden honey they produced.
Not one to let an idea go to waste, Cissie contacted Josh Pietrafeso, co-owner of Colony Urban Farm store, to find out more about the program. Today it's a well-known fact that bee populations have been rapidly declining for several years, and Josh is one of the many dedicated beekeepers all over the country who are trying to stem the decline by starting and maintaining new hives in any space they can find.
Cissie of course understood how vital this project is; without honey bees to pollinate the fruit and vegetable plants, our nation's whole food supply is threatened. When she found out that by getting Salemtowne to participate in "Bee Our Future," Josh would install and maintain two hives of honeybees on the Salemtowne campus, she decided it needed to be done. Not only would Salemtowne be contributing to the overall health of the environment, but the harvests of fruits and vegetables in the residents' community garden would see a marked increase, and the honey from the hives could be used as hospitality gifts to visitors, and sold in the Salemtowne gift shop.
An information session was planned to answer the questions from residents and staff. Josh attended the session, and with a combination of his video, his instructional materials, and his own expertise, all the questions were answered and people began to express an interest. One of the key elements in getting the program approved was the enthusiasm of Executive Chef John Turner. He taste-tested the honey samples Josh brought with him, and he was sold! He immediately thought of all the dishes he could use this delicious honey in – sauces, pies, desserts, dressings! He was so enthusiastic that he immediately volunteered to contribute half the cost of the hives from his catering budget!
Soon the hives were installed, close to the community garden so the bees could carry out their vital function of pollinating the plants there, and close to Salemtowne's lake to provide the all-important hydration for the bees. Now the year-long wait begins till the first combs can be lifted from the hives, dripping with honey and ready to be harvested.
Response to Josh's "Bee Our Future" program has been enthusiastic throughout the Winston-Salem area. More information can be obtained by contacting Colony Urban Farm Store: BeeOurFuture.com. Or you can stop by and "belly up" to Josh's Honey Bar and sample some of his delicious and unusual honeys.
By Elizabeth Bergstone