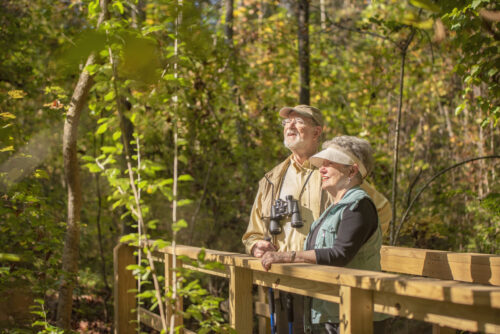 The Woodlands is Thriving!
Even during a year dominated by the first pandemic in more than a century, more than 85 residents safely moved into The Woodlands this past year, and they had a good time getting settled.
As many seniors this past year have been trapped indoors, the Woodlands residents have been able to enjoy Salemtowne's wide range of outdoor spaces, including a popular courtyard, which residents named The Plaza, which spills over two levels and features multiple sitting areas, a fireplace, grills, water feature, and firepit.
Another popular outdoor space that served as a boost to residents' spirits over the past year is our hiking trails through the 25 acres of wooded space on our campus. New resident, Sam Owen, stated: "what a joy the trails have been."
The Woodlands consists of two four-floor buildings that feature a total of 56 one- and two-bedroom villas ranging from 1,215 to 1,875 square feet. Each building has seven residences per floor and underbuilding parking. The Woodlands features six open concept floor plans, breakfast bars and pantries in kitchens, large utility closets, and walk-in showers with glass shower doors. All units have either a patio or balcony and walk-in closets in master bedrooms.
"We just decided if we were going to be anywhere during this pandemic, then we couldn't think of a safer place than Salemtowne. For people who haven't lived here, you can't imagine the care and the planning and the adjustments that the staff has undertaken to make sure that everybody stays healthy," new Woodlands Resident Ben Floyd said.
"I've been surprised by the number of people who have seen what we're doing and have said 'You know, we've thought about that, but we just haven't done anything about it," added Floyd. "Start the process. It's like anything else—until you begin, you're pretty much making a decision not to decide."
If you are interested in learning more about Salemtowne, please contact our Marketing Department to set up a safe, socially distanced tour. To learn more, call 336-714-2157 or email marketing@salemtowne.org.